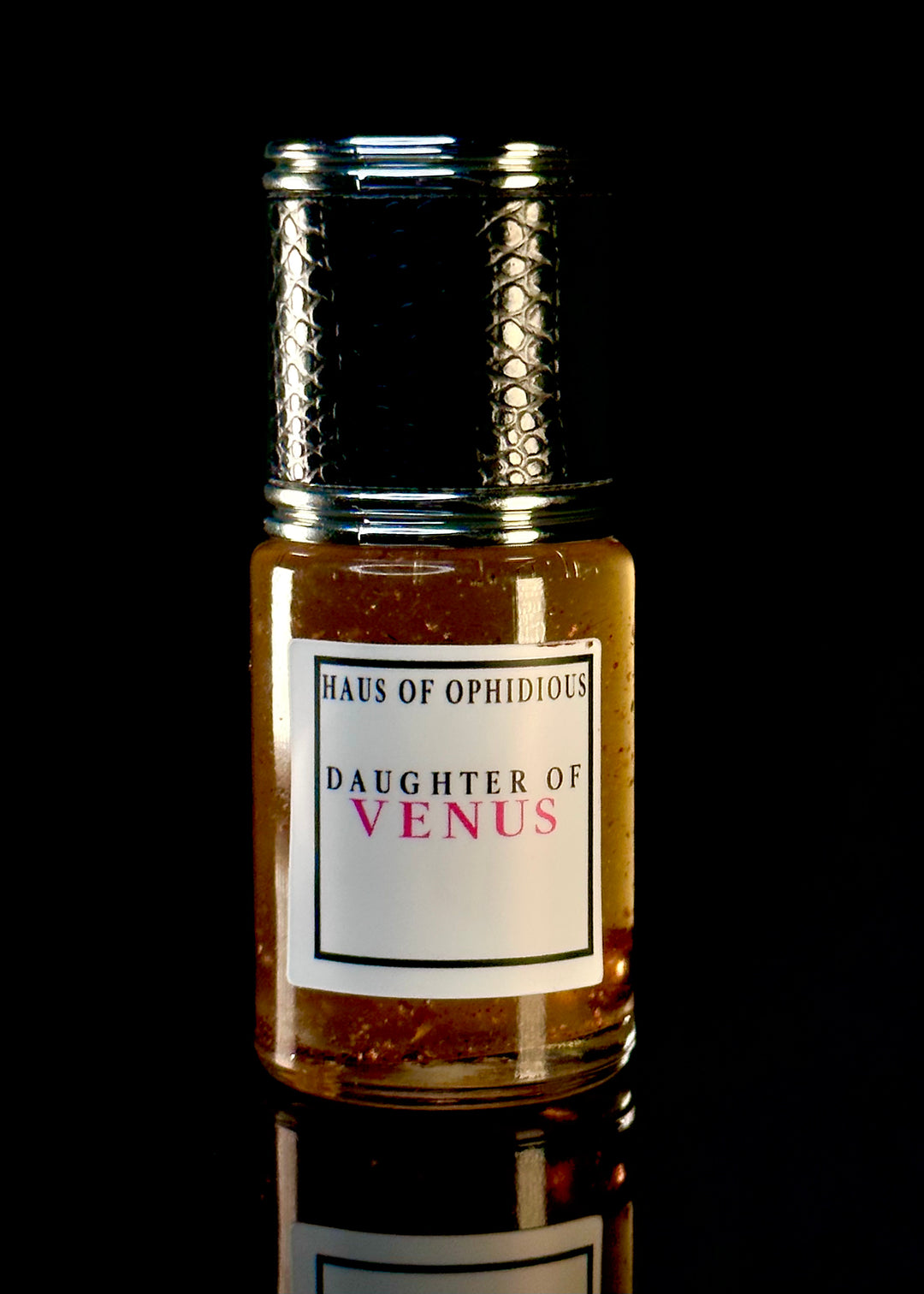 Daughter of Venus Oil
Regular price
$44.00
Sale price
$37.40
Save $6.60
/
---
Free Shipping within the USA
In stock, ready to ship

Inventory on the way
This oil is limited to a single release of 21 bottles.
Oil of the Daughter of Venus is for aid and power in all works requiring the virtues of Venus, for the attraction and promotion of love and romance, to attract a partner, or multiple, and ignite the flames of passion, to turn ordinary dinners or gatherings into festive celebrations, joyous company, and time well spent, to slow down and to be exposed to the subtler beauties of the world, to boost and maximize relaxation, for gaining attention and drawing in the eyes of others, for the promotion and protection of joy and pleasure, among all else in the grace and grasp of Venus.  
It is of special note to mention that within the instructions provided with this oil there is a recipe for the creation of a charm, utilizing the Oil of the Daughter of Venus, that will draw in and attract spirits of the land and spirits that are partially "other" that are in line with the virtues of the oil that can be met, learned from, and worked with.
CREATION
During the day and hour of Venus, as she was in a favorable position, goat skin - the goat being a venusian animal - was marked with seals and glyphs of Venus using inks made from several personal Venus powders. The skin was fumigated with Sumatran Benzoin and accompanied by prayers to Venus as female human rib bone, Copper, Emerald, Rose Quartz, and Pearl were wrapped in the skin alongside a dart made of spirit specified wood and dipped in a private oil, a touch of honey and an oil of sweet disposition, Bay laurel berry, Cherry wood, Dove feather, Mulberry wood and leaf, Musk, Orchid, Rose, and Sumatran Benzoin among other materia to birth the Daughter of Venus through the mixing and molding of human and animal dead, plants, and stones with the virtues and spark of Venus. The bundle was added into a base of jojoba and sweet almond oil. The fourteen days following the initial creation saw the creation of a powder capable of anchoring the virtues and qualities of Venus even further so that they may be dispensed through the hands of the Daughter. This powder was added to the mother bottle on the fourteenth day with a small portion reserved.
Each 15 ml bottle arrives with detailed instructions and suggestions for use packed tightly within a prepared keepsake box.
As with most Haus of Ophidious oils, this oil is made in small batches, and will not be restocked once sold out.